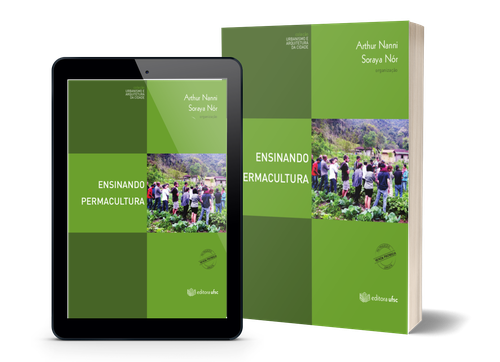 The Permaculture Research Group at UFSC (NEPerma) in partnership between the Architecture and Urbanism Post-graduate Program and UFSC Publisher releasing the book Teaching Permaculture.
The book is a NEPerma's experience synthesis on teaching permaculture at the academy. Released in two ways, printed and e-book versions, Teaching Permacultura aims to encourage educators/instructors on PDC teaching.
Teaching Permaculture comes to attend the growing requests on how to teach permaculture. The book is a combined effort from professors, technicians and students stimulating the permaculture teaching throughout different learning grades, being more suitable for academic instruction. The publication brings a series of classes and methods to teach including basic contents, substantiated on Bill Mollison's PDC syllabus and adopted to Brazilian universities' needs. Its 16 chapters suggest how to teach each thematic inside a PDC and provide the needed interactions to reach a systemic teaching, where students are invited to be the protagonists of their own learning.
The e-book version on PDF format is available on the UFSC Publisher's website and NEPerma's principal webpage.
The authors expect "Teaching Permaculture" be a tool for all permaculture instructors, working in universities, governmental/nongovernmental organizations and institutes seeking, like us, to propagate and spread permaculture knowledge on its reachable zone and beyond.
Would like to translate this book to another language? Please, contact us by e-mail
.
[in Portuguese] Você tem interesse em traduzir a obra para outras línguas? Entre em contato conosco pelo e-mail
.
Essay: Arthur Nanni
Review: Alexandre Nanni
Tags:
PDC
Curso de planejamento em permacultura
Permaculture teaching
Livro
PDC